Hawaii Bonefish Fly Fishing Trips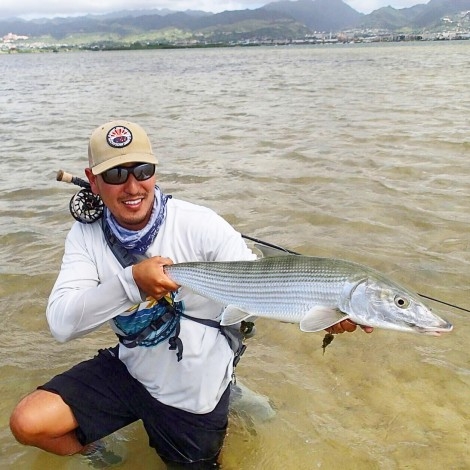 Fly Fishing Bonefish in Oahu Hawaii can be some of the most challenging yet rewarding fly fishing adventure. Our average Bonefish in Hawaii is 3-5 pounds and do see fish exceeding 10 pounds. These bigger fish are generally found in singles or doubles cruising and tailing on the flats. In Hawaii you won't see large schools of Bonefish on the flats like other fly fishing destinations, we do find smaller fish in smaller schools of 5-10 in the 2-5 pound range on the flats. Bonefish flats we fish here Hawaii can be sandy ankle deep water where we find tailing Bonefish to waist deep reef flats where we find cruising bonefish and Trevally.
What to bring your fly fishing trip
Hat, good copper polarized lens sunglasses, sunblock, light rain jacket, flats boots, camera, comfortable cool sun protection fishing shirt, snacks and beverages of your choice.
If you would like to bring your own equipment a 9' 8wt saltwater rod with a saltwater safe fly reel with a good drag loaded with 200 yards of 20 pound backing, Tropical Saltwater floating fly line 9' tapered flourocarbon leader 12-16 pounds.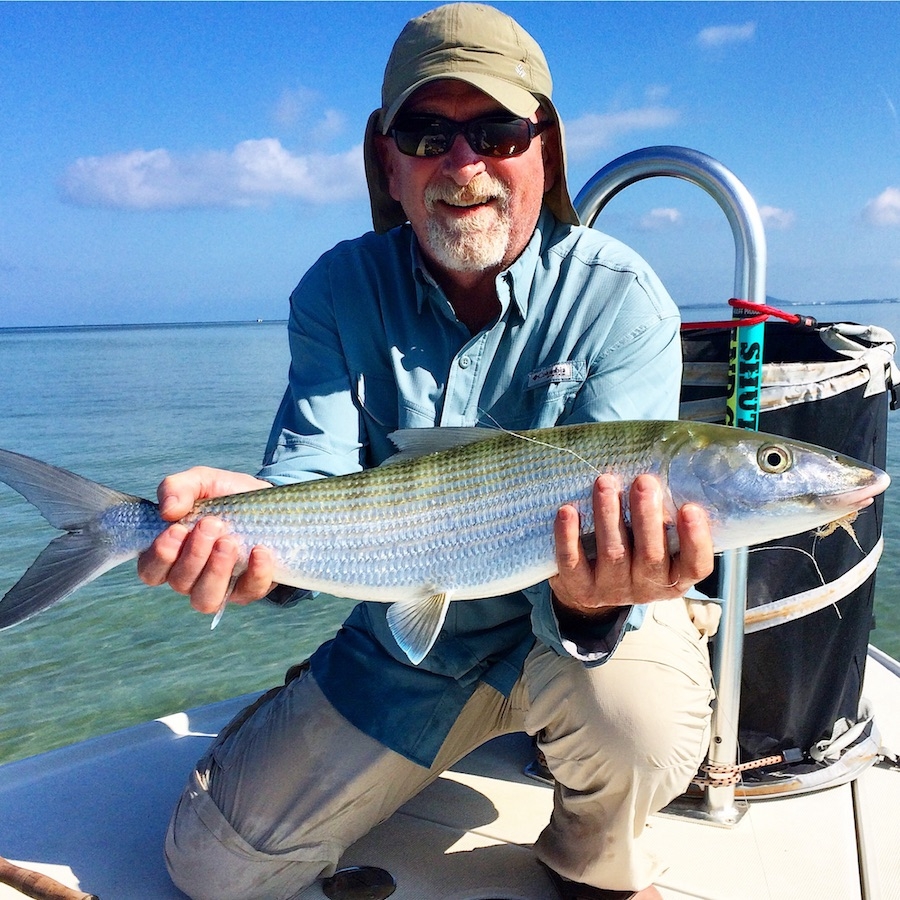 What is included in fishing trips
R.L Winston Fly Rods and Hatch and Galvan Reels and flies are provided. We do not provide spinning tackle or bait fishing.
Cooler with bottled water
On full day guided trips lunch is provided.
Action Craft Flats boat
Hawaii Bonefish Flies
No fishing license is required for saltwater fishing in Hawaii.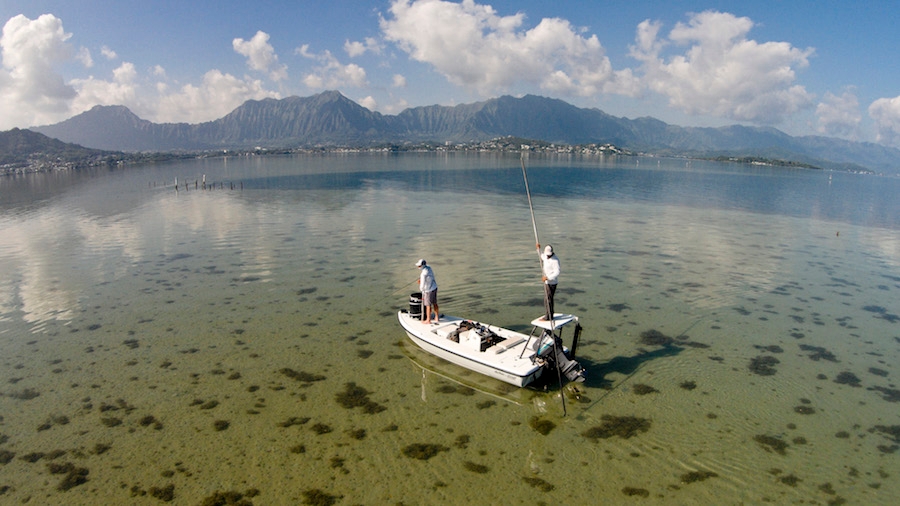 Hawaii Bonefish Fly Fishing Rates
2023 Rates

Full Day Charter 8 hours (2 anglers max per boat/guide)
$700
Half Day Charter 4 hours morning or afternoon (2 anglers max per boat/guide)
$500
HI Tide Fishing Co. is a independent guide service. No other businesses are a booking agent or representative.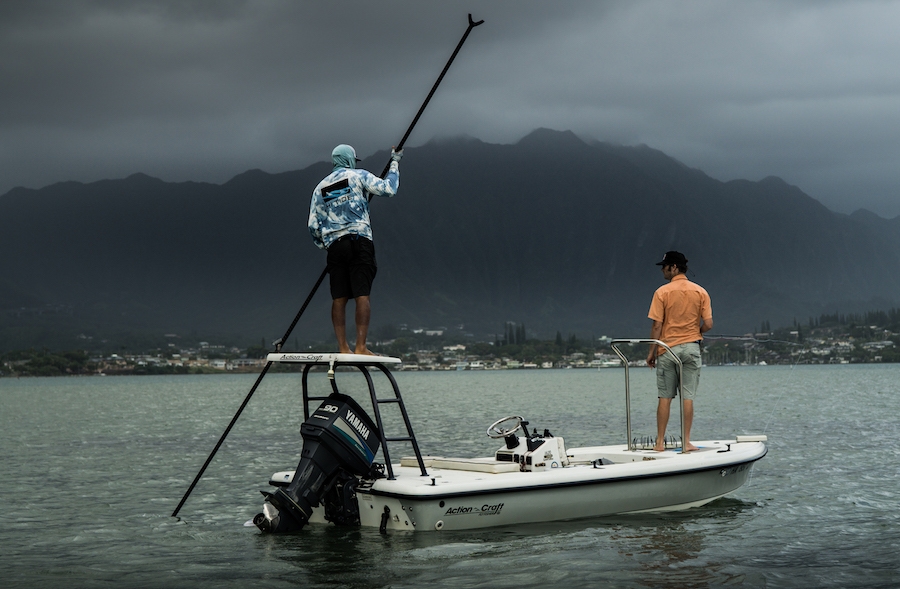 Action Craft 1620 Fly Fisher
Action Craft 1620 Fly Fisher is a 16′ boat and is powered by a reliable Yamaha F70 outboard. Action Craft boats are well built and is the perfect boat for fly fishing the flats here in Hawaii. Built for fly fishing the boat has plenty of dry storage space, securely store 8 fly rods under the gunnel, large bow casting deck. The boat has a very comfortable dry ride, safe, and stable flats fishing skiff. The boat is equipped with a leaning rail on the bow for comfort and when extra balance is needed, 3 U.S Coast Guard approved life jackets, flares, VHF radio and first aid kit. The boat is clean and well maintained.
Having a flats boat gives the anglers the advantage when sight fishing. When the tide is low and fish are tailing in skinny water, wading is the best option using the skiff to move to different flats quickly and getting the best possible shots. When the tide rises and is to high to effectively sight fish while wading, poling and fishing from the boat gives anglers the advantage to see fish. Poling also allows us to cover more water to find the bonefish.
Meeting times will be determined based on weather, fishing conditions, and tides. I will contact you the evening before your charter to time.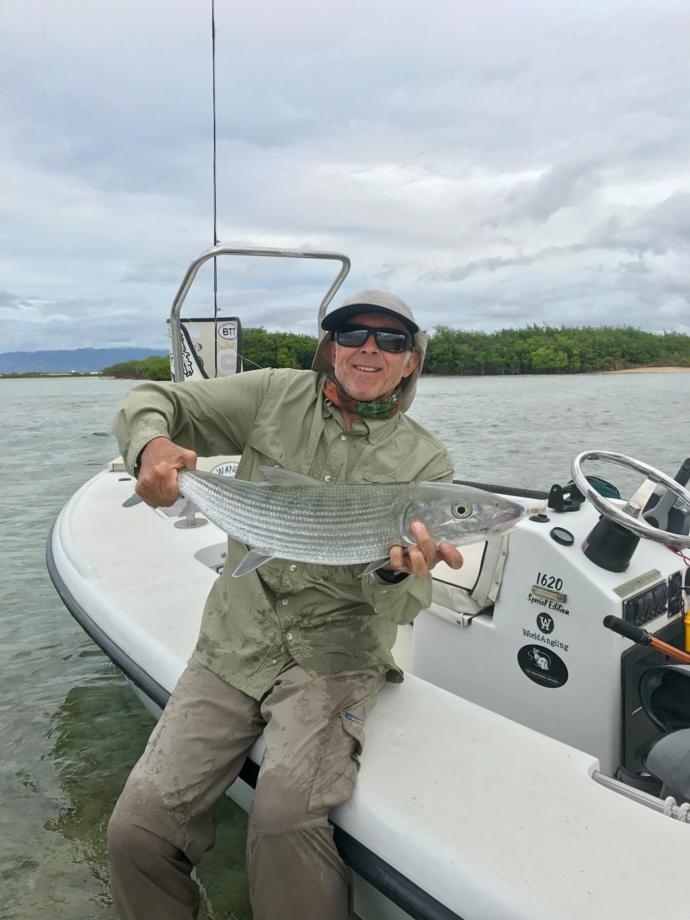 Typical day on the flats
A typical day on the flats will usually be both wading and poling the flats. We generally like to start as early as possible and wade the flats for tailing bonefish. As the sun rises higher we like to get into the flats boat and cover ground.