HI Tide Fly Fishing Co. Oahu Hawaii Fly Fishing Guide
Welcome to HI Tide Fly Fishing Co. based out the beautiful island Oahu, Hawaii. Providing next level inshore fly fishing trips. We specialize in shallow water fly fishing on the flats for Bonefish, Golden Trevally, and Giant Trevally or GT.
Oahu, Hawaii is world renowned for its breathtaking beaches, amazing surf breaks and beautiful mountain ranges. However, one thing the most isolated island chain on earth is not well known for is saltwater fly fishing and it's trophy bonefish. The first thing that comes to mind when fishing in Hawaii is deep sea fishing. The island of Oahu, which means the gathering place, is home to some of the largest bonefish or "'O'io" (Bonefish in Hawaiian) on earth. We have amazing Bonefish flats on both the eastern side of the island and the southern side that present the visiting fly fishing angler opportunities to wade or pole the Hawaii Bonefish flats in our flats boats designed for fly fishing in search of these elusive giants.
Our Hawaii Bonefish average 3 to 5 pounds consistently, but come prepared for shots at some in the 8 – 10 pound plus range. Additionally, we do have shots at different types of Trevally, including Giant Trevally, or "Ulua;" Blue Trevally, or "Omilu;" and Golden Trevally, or "Pa'o Pa'o" on the flats. Average day with good visibility on the Hawaii Bonefish flats we see 40-100 fish in a day and have excellent shots on about half of them or more. Fly Fishing Conditions on Oahu Hawaii can be challenging like many other saltwater fly fishing destination with strong tradewinds, although we do have many great days with perfect wind and great visibility. For those willing to accept the challenge the returns can easily yield the bonefish of a lifetime!
We fly fish for Bonefish year round on Oahu.
Honolulu Hawaii is the first stop for Fly Fishing anglers traveling to Christmas Island. Take advantage of this opportunity at Oahu's Bonefish and get a few tips as well.
HI Tide Fly Fishing Co. is dedicated to offering one of the best guided fly fishing experience in Hawaii, Our experience, attention to detail, weather, tides, 16' Action Craft flats boats and top of the line fly rods and equipment.
We often get asked about offshore fishing here in Oahu. You chase bonefish one and day chase Marlin and Yellowfin Tuna the next. For offshore fishing charter we highly recommend Capt. Hopper on the Grandslam out of Haleiwa on Oahu's North Shore. Check him out at Grandslam Hawaii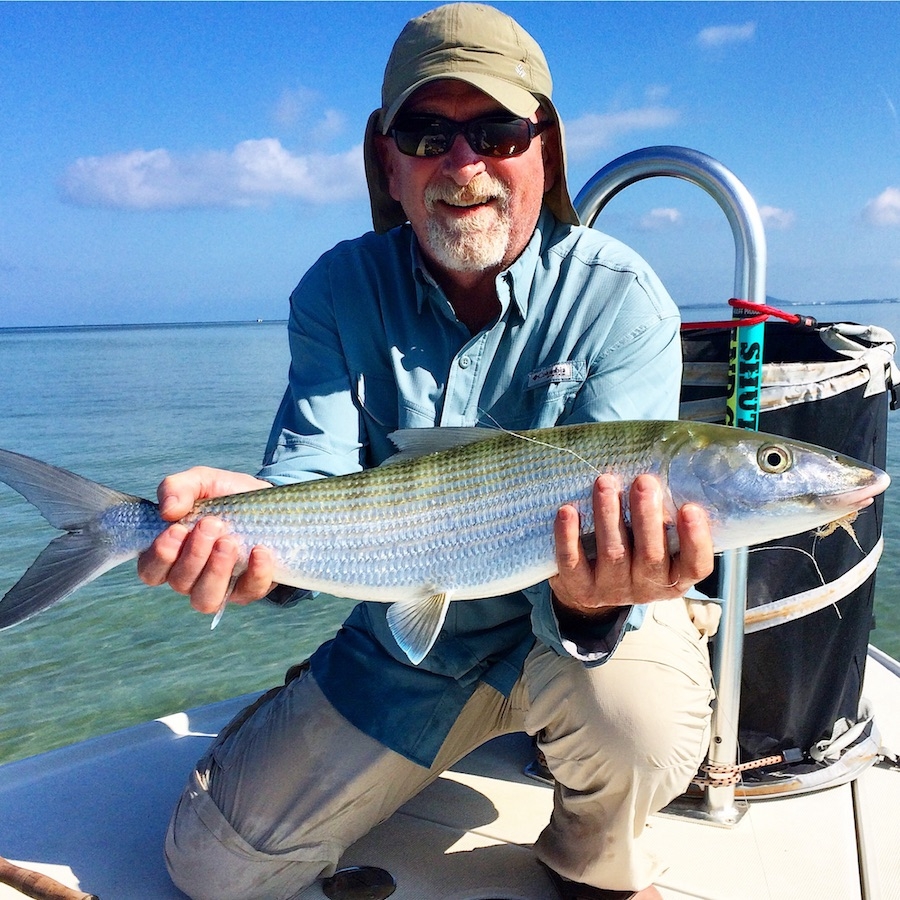 Hawaii Bonefish Fly Fishing Trips
Fly fishing for Bonefish in Oahu Hawaii can be some of the most challenging Bonefish to catch with a fly rod rewards can be great with some of the biggest bonefish. We use 9′ saltwater fly rods 7wt - 8wt with a saltwater safe fly reel with a good drag. WF floating tropical saltwater fly line with 200 yds of 20-30 lb backing, 9′ to 12′ fluorocarbon tapered leaders with 16 lb and 12 lb tippet.
Hunting Trips
Hawaii has opportunities for Axis Deer, Mouflon Sheep, Spanish Goats, Wild Boar and Upland Gamebirds. Those interested in booking a hunting adventure please visit our Hunting Outfitter Hook You Up Outfitters