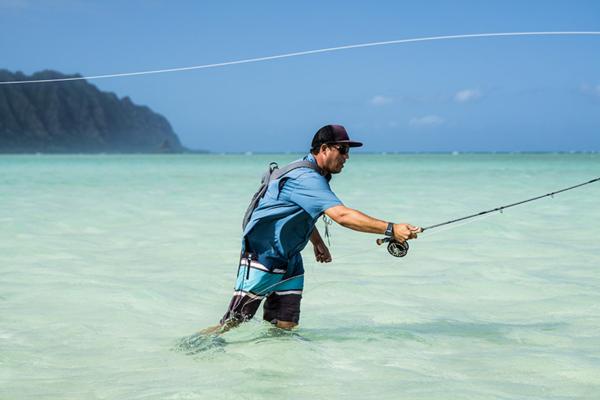 As a Hawaii Bonefish guide I want everyone of my clients to be successful on the flats even when they're not fishing with me. For many anglers I get its they're first time wading for tailing bonefish or standing on the bow of my flats boat and I fully understand that. For many it can make them very nervous. I want first time saltwater fly fisherman to be prepared when the day comes when they have the opportunity to fish for these crazy fish we call Bonefish.
First of all accuracy is important, getting that fly in the zone without spooking it. When a bonefish is tailing in skinny water you need to be able to place that fly in a small box so it will see it. you will also want to work on landing that fly nice and soft. Next is dealing with wind. All saltwater fly fishing destinations can have heavy winds, I don't care if its in the Keys, Bahamas or Christmas Island. You need to be able to double hall and punch that fly out there and no I'm saying being able to cast 60′ into a 20 knot wind most bonefish shots here are 40′ and a lot of times closer. Being a quick caster is also a key element to being successful. It's rare for a bonefish to sit in one place and give an angler all the time in the world to make a shot. A perfect presentation might only last 20 seconds, feeding Bonefish are constantly moving. You'll want to be able to get out 40′ of line in 2-3 false cast the faster the better.
Once you get that Hawaii Bonefish to eat that perfectly presented fly you don't want to do that famous Trout set, you may get lucky and fish may stick but most times that hook won't set and the fish will shake his head and swim away. You want to do a strip set and no not the kind of strip set we do on Giant Trevally. A nice long strip, it will feel like your stuck on the bottom you will feel the fish pulling back in a second and thats when you let em go and be prepared to see your backing. This is just a few pointers to help you be successful on your Bonefish trip. If you have any questions please feel free to e-mail jessecheape@gmail.com or give me a call I will help you in any way I can!
Heres a few videos to watch.
Posted in: Uncategorized