Christmas Island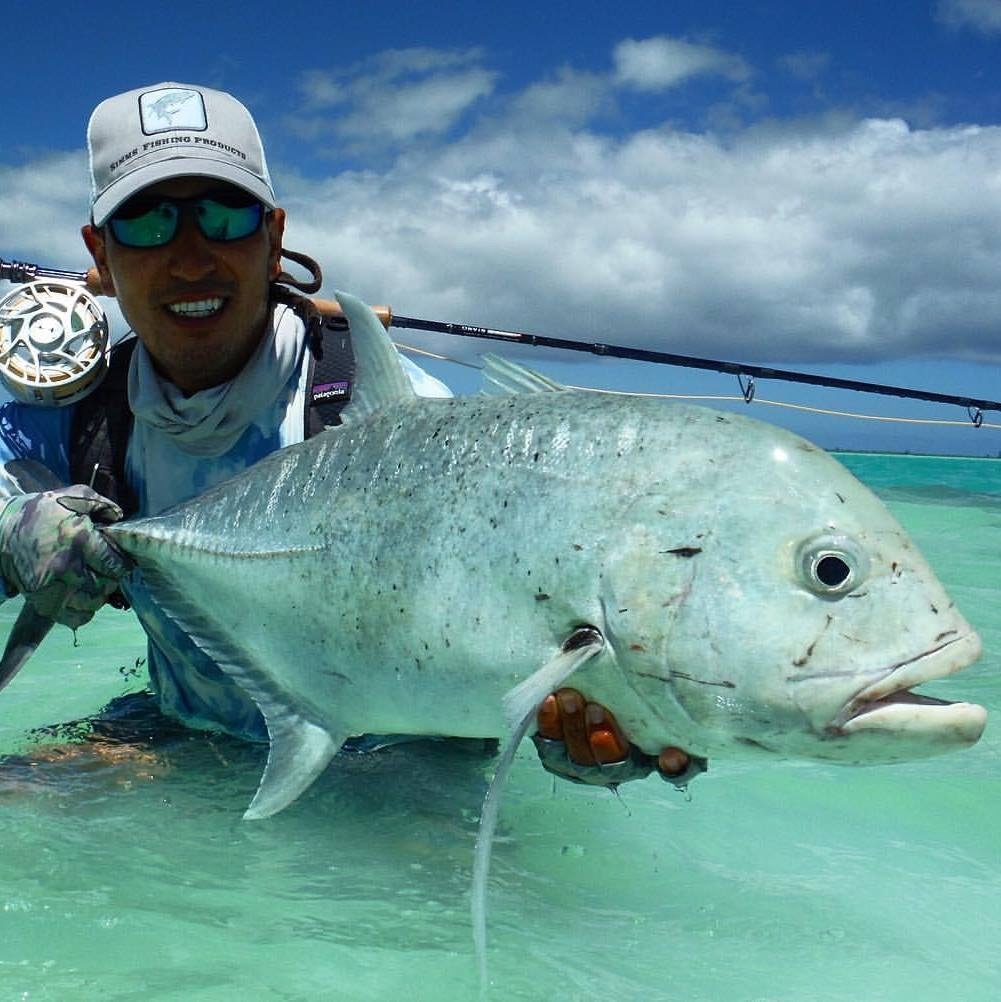 Christmas Island is one of the worlds best known Saltwater fly fishing destinations. A 3 hour flight from Honolulu will take you to the remote atoll in the Pacific Ocean. Christmas Island known for it's great Bonefish fly fishing has a diverse list of species to target on the fly, Giant Trevally, Milkfish, Triggerfish, Golden Trevally, Sailfish, Yellowfin tuna and Wahoo.
Christmas Island Outfitters
HI Tide Fishing Co. fishes with Christmas Island Outfitters. Head Guide Bita Kairaoi and his team of guides are some of the best guides on the Island. Call them at 800-552-2729
Crystal Beach Lodge located in Tabawakea sits on the ocean side of the island with spectacular sunsets and ocean views, very clean and simple lodge with air conditioned rooms and bar area for thirsty fisherman and guides to have a drink.
Fiji Airways flies to and from Christmas Island weekly departing Honolulu Tuesday afternoon and returning Tuesday morning. (Hawaii time)
Fish one the worlds top Saltwater fly fishing destinations with Christmas Island Outfitters.
Itinerary:
Contact HI Tide Fishing to reserve a Hawaii Fly Fishing before or after your Christmas Island trip.
Monday: Arrive Honolulu and overnight at your elected accommodations (independently arranged, not included).
Tuesday: Depart Honolulu and arrive Christmas Island where you will be transported to the lodge.
Wednesday: through Monday: Six full days of guided fishing.
Tuesday: Depart Christmas Island and arrive Honolulu* for your connecting flight home or points beyond.
Note: Please be aware that this flight crosses the International Date Line, so when you depart the island it will be
Wednesday, and when you arrive in Honolulu it will be 10:50 AM on Tuesday. If you are planning on connecting with a flight home from Honolulu the same day, please do not book a flight prior to 1:00 PM to ensure a smooth connection. Anglers will be required to clear customs and immigration, collect baggage, and re-enter the security checkpoint.
Typical Day
6:00 AM: Wake
6:30 AM: Breakfast
7:00 AM: Depart for flats
8:00 AM – 4:30 PM: Guided fishing
5:30 PM: Return to the lodge
7:00 PM: Dinner
Note: Please keep in mind that your daily schedule will vary in accordance with tides and your fishing desires
2019 Rates
$2,570 per person for a 7 night/6 day package (double occupancy)
$2,945 per person for a 7 night/6 day package (private room and private guide)
Included: Accommodations, meals, guided fishing, four bottles of water per person per day, ground transportation on Christmas Island.

Not Included: All airfare to Christmas Island, accommodations/meals/transfers in Honolulu, alcohol and soda, fishing license, staff and guide gratuities, departure taxes.